Utah's largest medical provider announces pay cuts for doctors and nurses amid coronavirus pandemic
Utah's largest medical provider is slashing salaries for doctors and nurse practitioners, saying they must be flexible in the face of "changing needs" created by the coronavirus pandemic.
Intermountain Healthcare told its staff in an email that pay cuts were needed because the company was not making as much revenue due to canceled appointments and postponed non-essential and elective surgeries.
It was not clear how many of Intermountain Healthcare's 2,400 advanced physicians and practitioners would be affected by the changes. The company describes itself as the largest healthcare provider in Intermountain West, primarily serving Utah, southern Idaho, and southern Nevada.
An advanced practice provider, who did not want to be named, said Salt Lake City Grandstand the cuts were a "slap in the face" for healthcare workers on the front lines of the pandemic.
"You are putting your life in danger and you may be exposed," she told the newspaper.
"Now they're cutting the wages of the people on the front lines. It's just a slap in the face."
The company also doesn't pay those who work directly with coronavirus patients with a risk premium, which an ICU nurse told the newspaper was "absolutely demoralizing."
The pay cuts were revealed to staff in an email containing a link to a video posted by Intermountain Healthcare on YouTube. In the video, Dr Mark Briesacher, Chief Medical Officer of Intermountain Healthcare, said: "This is a critical time for physicians to be flexible in the face of the changing needs created by COVID-19."
Dr Briesacher explained that while some doctors are experiencing "extremely high demand" during the pandemic, others have seen their work cut by 30-50%.
"Our priority is to help you keep working and have a stable income," he added. "We are doing this through temporary redeployment and compensation measures. This will help us meet the needs of our patients, as well as reduce uncertainty for you and your families."
Daron Cowley, spokesperson for Intermountain Healthcare, said News week that no pay cut has yet taken place, but that a "limited" number of physicians and advanced practice providers who experience "significant reductions in their workload" may have their pay adjusted from June .
"It is a dynamic and stimulating environment that changes every day. We are constantly assessing the situation and will regularly review our plans," he said.
Cowley added that some employees who are reassigned to high demand areas will continue to be paid at their current rate. Those who cannot be moved will be paid up to four weeks for the missed time.
"Intermountain is doing everything possible to keep employees working. One way to do this is to redeploy employees to areas that need them," he said.
"If an employee is redeployed to another position, they will continue to be paid at their current rate. If Intermountain is unable to redeploy an employee to another position, we will provide compensation for the missed work due to COVID-19. at four weeks will be paid. "
He added that employees can also use their accumulated paid time off to cover other missed work after the four weeks. "If they use their entire PTO, they can have a negative PTO balance of up to 80 hours. The benefits will not change," he added.
The news comes as the number of confirmed cases of COVID-19, the disease caused by the novel coronavirus, rose to 806 on Monday, according to the Utah Department of Health. Four deaths have been reported in the state.
This infographic, provided by Statista, shows the number of confirmed COVID-19 cases by state in the United States as of March 31.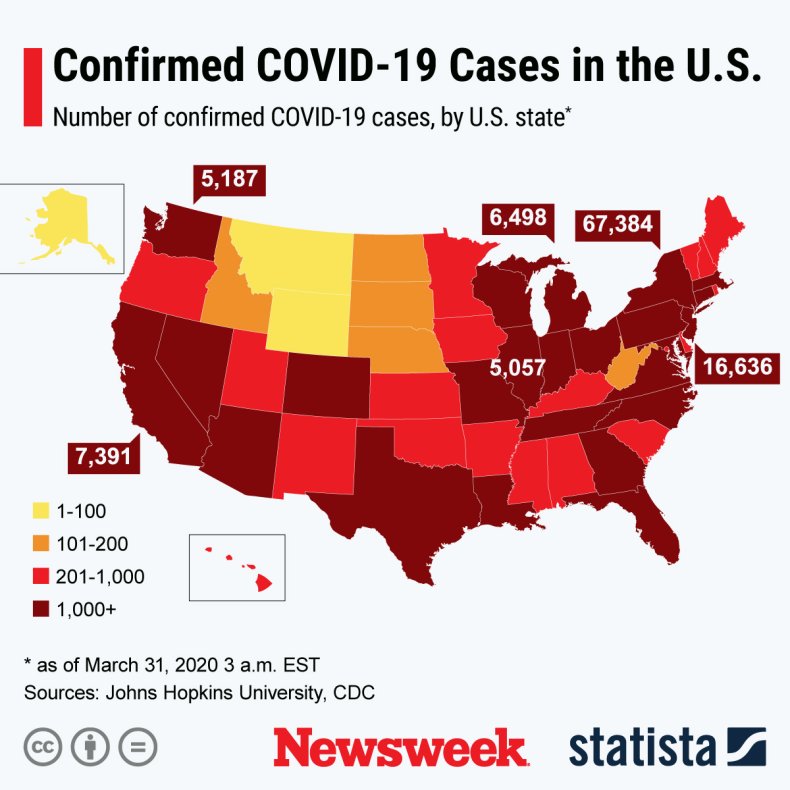 Advice from the World Health Organization on preventing the spread of coronavirus disease (COVID-19)
Hygiene advice
Wash hands frequently with soap and water or an alcohol-based hand sanitizer.
Wash your hands after coughing or sneezing; when caring for patients; before, during and after preparing food; before eating; after going to the toilet; when the hands are visibly dirty; and after handling animals or waste.
Maintain a distance of at least 1 meter (3 feet) from anyone who coughs or sneezes.
Avoid touching your hands, nose and mouth. Do not spit in public.
Cover your mouth and nose with a tissue or a bent elbow when you cough or sneeze. Immediately throw away the tissue and wash your hands.
Medical advice
Avoid close contact with others if you have symptoms.
Stay home if you are feeling unwell, even with mild symptoms such as a headache and a runny nose, to prevent the potential spread of the disease to medical facilities and other people.
If you develop severe symptoms (fever, cough, difficulty breathing), seek medical advice promptly and contact local health authorities in advance.
Note any recent contact with other people and details of your trip to provide to authorities who can trace and prevent the spread of the disease.
Stay up to date on COVID-19 developments released by health authorities and follow their advice.
Use of mask and gloves
Healthy people only need to wear a mask if they are caring for a sick person.
Wear a mask if you cough or sneeze.
Masks are effective when used in combination with frequent hand cleaning.
Do not touch the mask when wearing it. Wash your hands if you touch the mask.
Learn how to properly put on, take off and throw away masks. Wash your hands after discarding the mask.
Do not reuse single-use masks.
Regular washing of bare hands is more effective against COVID-19 than wearing rubber gloves.
The COVID-19 virus can still be caught on rubber gloves and transmitted by touching your face.